Flora MacDonald
1722 – 1790
Photographs of Plaque
Fort Edward Blockhouse Windsor
Hants County Nova Scotia
GPS location: 44°59'48″N 64°08'07″W
The Fort Edward blockhouse, with the Flora MacDonald plaque, is located
only 12 seconds of latitude – about 360 metres – south of 45° latitude,
half way between the Equator and the North Pole.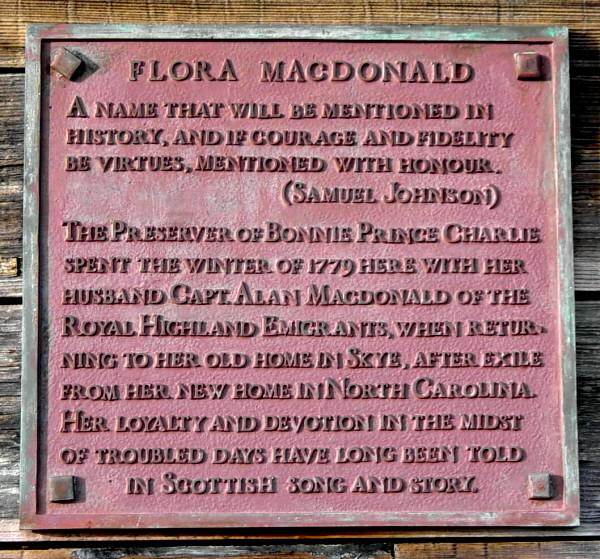 Flora MacDonald plaque Windsor, Nova Scotia

Photographed 21 November 2002
Prince Charles Edward Stuart was the grandson of James VII/II.
On 22 July 1745, Prince Charles Edward Stuart
— a.k.a. Bonnie Prince Charlie or the Young Pretender —
made landfall at Barra Head, the southernmost tip of the Outer Hebrides…
Highland Heroine Flora MacDonald famously helped Bonnie Prince Charlie escape
from the Isle of Uist, following the defeat at the Battle of Culloden in 1746…
Samuel Johnson (1709 – 1784) often referred to as Doctor Johnson,
literary giant of the 18th century – essayist, lexicographer,
poet, editor, critic, and famous talker – is the second
most quoted person in the English language, after Shakespeare.
In 1773, Johnson visited Flora MacDonald at her home on
the Isle of Skye. His comment appears in his 1775 book:

A Journey to the Western Isles of Scotland

Chapter 21: Dunvegan
A Google search done on the Internet on 12 February 2003, on the phrase
"Journey to the Western Isles of Scotland", returned 1040 hits,
all referring to Johnson's book, either as a modern reprint,
or as an old edition for sale (C$4500 for a copy of the 1775 edition),
or as an Internet location with the complete text available online.

Fort Edward Blockhouse, Windsor
The Flora MacDonald plaque is placed at the left side of the door.
Photographed 24 December 2003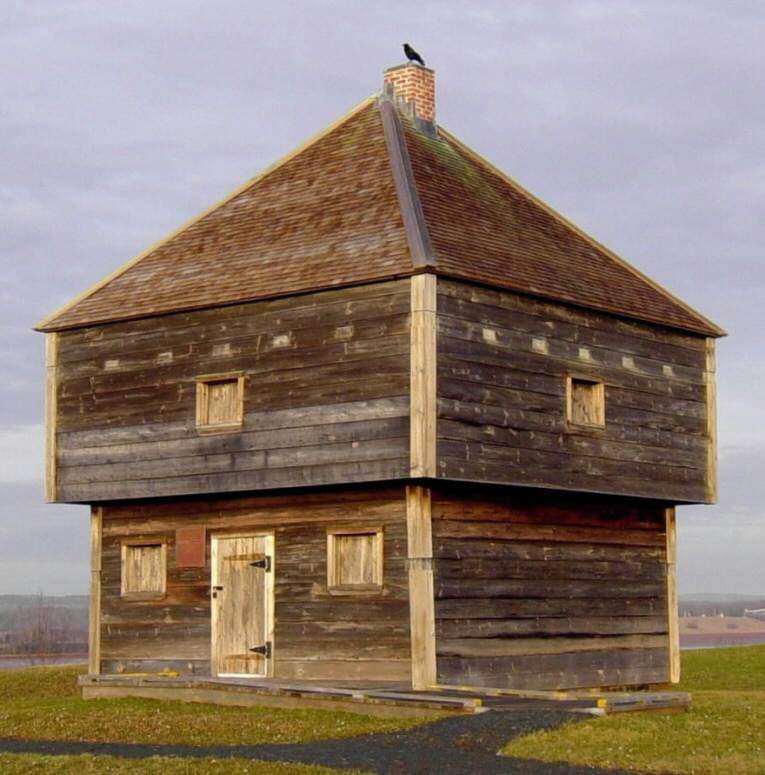 Fort Edward Blockhouse, Windsor
The Flora MacDonald plaque is placed at the left side of the door.
Photographed 24 December 2003
Also see: Fort Edward blockhouse

Flora MacDonald
http://www.rampantscotland.com/famous/blfamflora.htm

Fionnghal (Flora) MacDonald
http://www.walkersshortbread.com/mix/bonnieprincecharles/
bonnieprincecharles.htm

The Story of Bonnie Prince Charlie and Flora MacDonald
http://www.slantsixstudios.com/mscda/FloraMacDonald.htm

Flora MacDonald
http://www.flodigarry.co.uk/flora_history.htm

The Scots, the English and racial discrimination
the Race Relations Act 1976
Scots Law News, "a pithy account of interesting, quirky
and important legal developments"
The University of Edinburgh, School of Law
…The Scots are a nation because of Bannockburn and Flodden,
Culloden and the pipes at Lucknow, because of Jenny Geddes
and Flora Macdonald, because of frugal living and
respect for learning, because of Robert Burns and Walter Scott…
http://www.law.ed.ac.uk/sln/index.asp?page=16

Flora MacDonald
http://www.isbuc.co.uk/People/FloMac.htm

Bonnie Prince Charlie, Culloden and God Save the King
http://www.bbc.co.uk/radio4/history/sceptred_isle/
page/105.shtml?question=105

Flora Macdonald by Wikipedia
http://en.wikipedia.org/wiki/Flora_Macdonald

Bonnie Prince Charlie by Wikipedia
http://en.wikipedia.org/wiki/Bonnie_Prince_Charlie

Flora MacDonald
http://www.tartans.com/articles/famscots/floramacdonald.html

Flora MacDonald
http://scotlandvacations.com/flora.htm

Flora MacDonald
http://www.globalguide.org/scotland/south-uist/bonnie.html

Bonnie Prince Charlie books about Flora MacDonald
http://www.royalty.nu/Europe/Charlie.html

Charles Edward Louis Philip Casimir Stuart Bonnie Prince Charlie
http://www.isbuc.co.uk/People/BoPrCh.htm

Charles Edward Stuart
http://www.undiscoveredscotland.co.uk/
usbiography/charlesedwardstuart/

The Escape of the Young Pretender
http://www.highlanderweb.co.uk/wallace/bonnie.htm

Who Was Bonnie Prince Charlie?
http://nc.essortment.com/whowasbonniep_rlhk.htm

Bonnie Prince Charlie
http://www.britainunlimited.com/Biogs/Charles.htm

Bonnie Prince Charlie
http://www.thecryptmag.com/Online/23/bonprincecha.html

Chapter 92: The Story of Flora MacDonald
http://digital.library.upenn.edu/
women/marshall/england/england-92.html

Bonnie Prince Charlie
http://www.s-h-systems.co.uk/tourism/edinburgh/
bonnie-prince-charlie.html

XCVII: Flora MacDonald Saint Croix Courier,
St. Stephen, New Brunswick, 28 December 1893
http://members.shaw.ca/caren.secord/locations/
NewBrunswick/Glimpses/XCVII.html

The Flight of Bonnie Prince Charlie
http://www.maybole.org/community/minishant/douglas/
flightofbonnieprincecharlie.htm
James VII (of Scotland), II (of England) (1633-1701)
Prince James Francis Edward Stuart (1688-1766)
Prince Charles Edward Stuart (1720-1788)

James VII/II
http://www.bbc.co.uk/history/timelines/
britain/stu_james_mon.shtml

James VII/II
http://www.royal.gov.uk/output/Page140.asp

James VII/II
http://www.tiscali.co.uk/reference/encyclopaedia/
hutchinson/m0020037.html

Prince James Francis Edward Stuart The Old Pretender
http://www.royal.gov.uk/output/Page144.asp

Prince Charles Edward Stuart (James IX/IV) The Young Pretender
http://www.royal.gov.uk/output/Page145.asp

Prince Henry Benedict Stuart
http://www.royal.gov.uk/output/Page146.asp

The Glorious Revolution, 1689-1701
http://www.open2.net/civilwar/6.3.aftershocks.html

The Two Pretenders
http://www.historic-uk.com/HistoryUK/
Scotland-History/TwoPretenders.htm
Reference (ink on paper)
From South Uist to Nova Scotia:
Flora Macdonald's Unhappy Winter in Windsor
by Allen Robertson
Volume 17 number 6, Jan-Feb 2004
Celtic Heritage (magazine)
http://www.celticheritage.ns.ca/